John Wayne Monopoly

$39.98 from Are You Game
Saddle up for an adventure with the Duke! Celebrate the life and career of one of the most beloved actors of our time, John Wayne. Know best for his roles as a cowboy, he also was a great athlete, rancher and outdoorsman representing the adventurous spirit of America. As you attempt to bankrupt your opponents by buying, selling and trading the most significant properties in John Wayne's professional and personal life, kindly heed these words: You can take everything a man has as long as you leave him his dignity. – John Wayne.
 
 
 

Simply Western Film Themes

$18.33 from Overstock.com
Theme songs from more than 50 of the most famous Western movies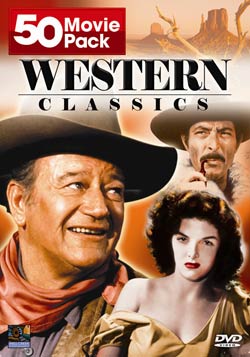 Western Classics 50 Movie Pack – 12-Disc Set (DVD)

$12.99 from Overstock.com
This 12-DVD set includes 50 western films. From legendary icons like Roy Rogers and Gene Autrey to Hollywood favorites like James Caan and John Wayne, the Western Classics 50 MoviePack has something for everyone.
Titles include:
Kentucky Rifle
Vengenance Valley
Juda Priest
The Sundowners
Rogue River
Gunslingers
Helltown
Mohawk and more.
Western Classics – 100 Movie Pack (DVD)

$31.35 from Overstock.com
Journey to the Old West with this collection of 100 classics. These films star cinematic cowboys such as John Wayne, Roy Rogers, Gene Autry, and Lee Van Cleef in the kind of roles that helped them rope fame. Features westerns mostly from 1930s – 1950s.
 
 
 
 
 
 

Western Oval Belt Buckle
Price: 16.95 from BeltBuckleShop.com
This classic looking belt buckle will complement any western attire. Designed to fit a 1-1/2 inch belt. This pewter belt buckle is approximately 3-9/16 inches wide x 2-9/16 inches high
Western Rectangle Belt Buckle
Price: 14.95 from BeltBuckleShop.com
Designed to fit a 1 1/2 inch belt. This buckle is approximately 3 and 3/4 inches wide x 2 and 3/4 inches high

Trademark Global Old Western Saloon Two-Piece Pool Cue
Price: 44.95 from Dazadi Inc
Slip on your boots and nod your hat to the beautiful quality and design of the Trademark Global Old Western Saloon Two-Piece Pool Cue! This quality 58" hard wood billiard cue weighs 20 oz. and includes a polished deep burgundy butt and center with a reflective pattern reminiscent of designs found in old western saloons. The 2-piece construction features brass joints for a precision fit and, when combined with the no-slip grip, you're guaranteed straight shooting every time! The Old Western Saloon Pool Cue comes with a custom fit hard black case lined with soft cushion felt, so your pool stick stays in perfect condition for years to come!
Mens Western Boots
Priced from $85 – $200 from Horse Saddle Shop
 
 
 
 
 
 
 
 
 

Western Cowboy Hats
Priced from $12 – $60 from Horse Saddle Shop
 
 
 
 
 
 

Western Horseshoe Birdhouse
Price: 19.71 from Horse Saddle Shop
Give the birds a home they can feel proud of. This cute birdhouse is a rustic piece of art. We love the horseshoe design complete with barbed wire, rustic wood sides and country star. Would make a great indoor decoration as well.
Western Barstool with Wrought Iron Legs & Hand-Tooled Leather Seat
Price: $538.06 from Ivg Stores
Classico western barstool is equally comfortable in your dining area or living space. Durable wrought iron base is accented with twists and scrolls. Extra comfortable padded seat is upholstered with genuine hand-tooled leather, complete with cowboy motif. Rustic classico Western counter stool has hand tooled leather seat with cowboy motif, wrought iron base with scrolls. 30-inch height. Deluxe Inside delivery included (upgrade to DI with Set Up if required/available) Hand tooled leather seat Classico design 16 in. L x 16 in. W x 30 in. H (29 lbs.)
BBQ Brands for Rare, Medium & Well Done
$64.95 from Ivg Stores
 
 
 
 
 
 
Source:
Photo: Cowboy Hat and Gun by jorgeinthewater, FeaturePics.com